Hackathons are a design sprint-like event which takes place over a 24 hour period and provides a venue for creativity through technology. Creatives from various backgrounds, form teams around a problem or idea and collaborate intensively on a solution through the format of a robot, app or digital product. The final product is known as a Hack. 
Hackathon 4.0 took place in November 2017 at the offices of Loblaw Digital in Downtown Toronto. The event consisted of over 60 participants, 20 teams, 5 judges, representing senior leadership throughout LCL and lots of coffee. 
Shopper Drug Mart customers experience many pain points when picking up prescription medications. These pain points include waiting up to 20 minutes in the store for their prescription, no method of pre-ordering medications and no knowledge of cost of these medications before purchasing. Our analysis showed a gap in the market for pre-ordering prescription medications in Canada to avoid these pain points and to generate a better customer experience.
I helped lead the UX of this hack. As a team of six I worked collaboratively with the other members of the team to gain an understanding of the current Shoppers Drug Mart user journey and help devise a strategic plan that would help us successfully creating a product within a 24 hour period. I was primarily responsible for creating wireframes, carrying out user testing and developing the prototype with the use of Sketch and Invision.

The objective was to Improve medication adherence and increase online refills by
reducing the current 12 hour lead time for orders placed online. We would devise a tool that would nest within the Shoppers Drug Mart app where users can order refills easy and conveniently. The app gives the user the ability to scan a barcode located on the side of their prescription bottle which will prompt them through an easy step by step process in creating an order refill. At the end of the process the user will be notified of their order and have the ability to collect at the express line at the pharmacy. 

Improve medication adherence and increase online refills by reducing the current 12 hour lead time for orders placed online. 
Drive a positive shift and improve the customer experience in store. 
Reduce pharmacy excess wait times and the overload of pharmacy orders. 
Generate revenue by adding functionality to this feature and to drive engagement to the rest of the platform.
Discovering The User Journey

To gain an understanding of the current state of user attitudes and behaviours we evaluated current customer feedback. Our research showed that our customers were a diverse group, ranging from the elderly, caregivers, parents and young adults. We also learnt that a majority of our customers were repeat prescription customers. Our focus was on mapping on the current user journey and how we could apply our solution to help improve it. The examples below illustrates our new customer journey.  

We were able to set up an workshop environment that allowed us to ideate, sketch and brainstorm. Many decisions were made by the group simply discussing our whiteboard sketches, which made the whole design process feel very collaborative, tactile and progressive. Once the wireframes were established, we then proceeded to take turn these sketches into digital designs.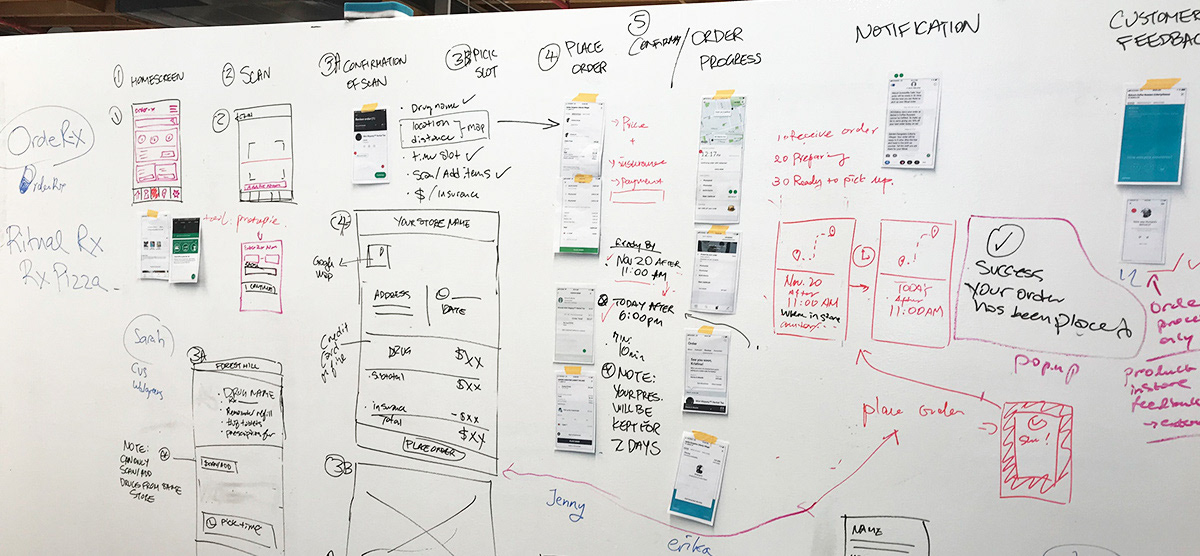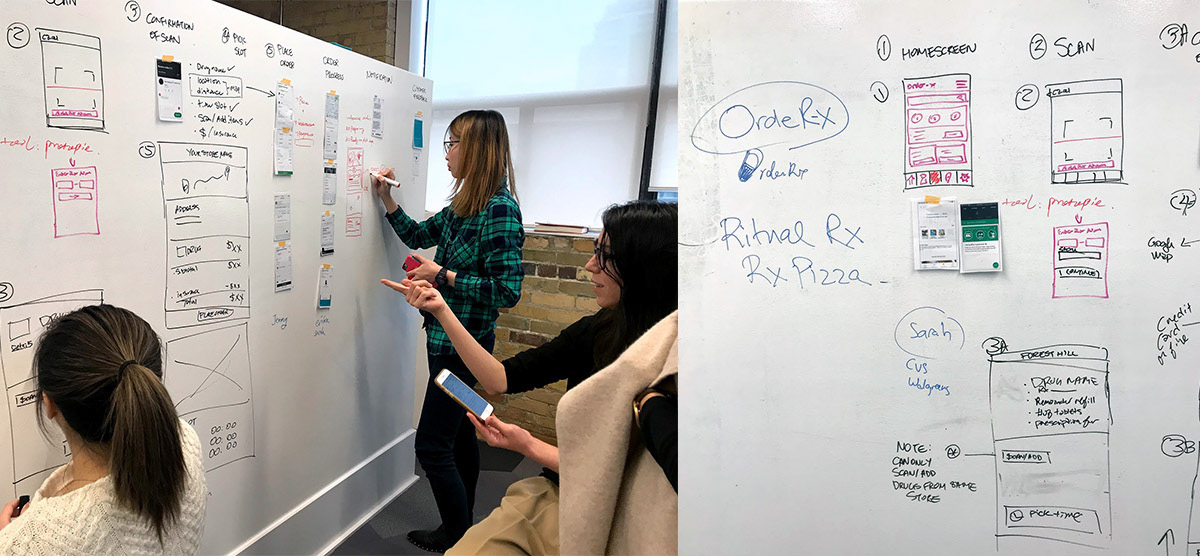 I used Sketch to create a high level designs that hosted the look and feel of the current Shoppers Drug Mart app, not altering from the brand guidelines. Many of the screens, states, components and their interactions were mimicked using the prototyping software Invision so we could receive rapid feedback from users which allowed us to quickly iterate and finesse the design.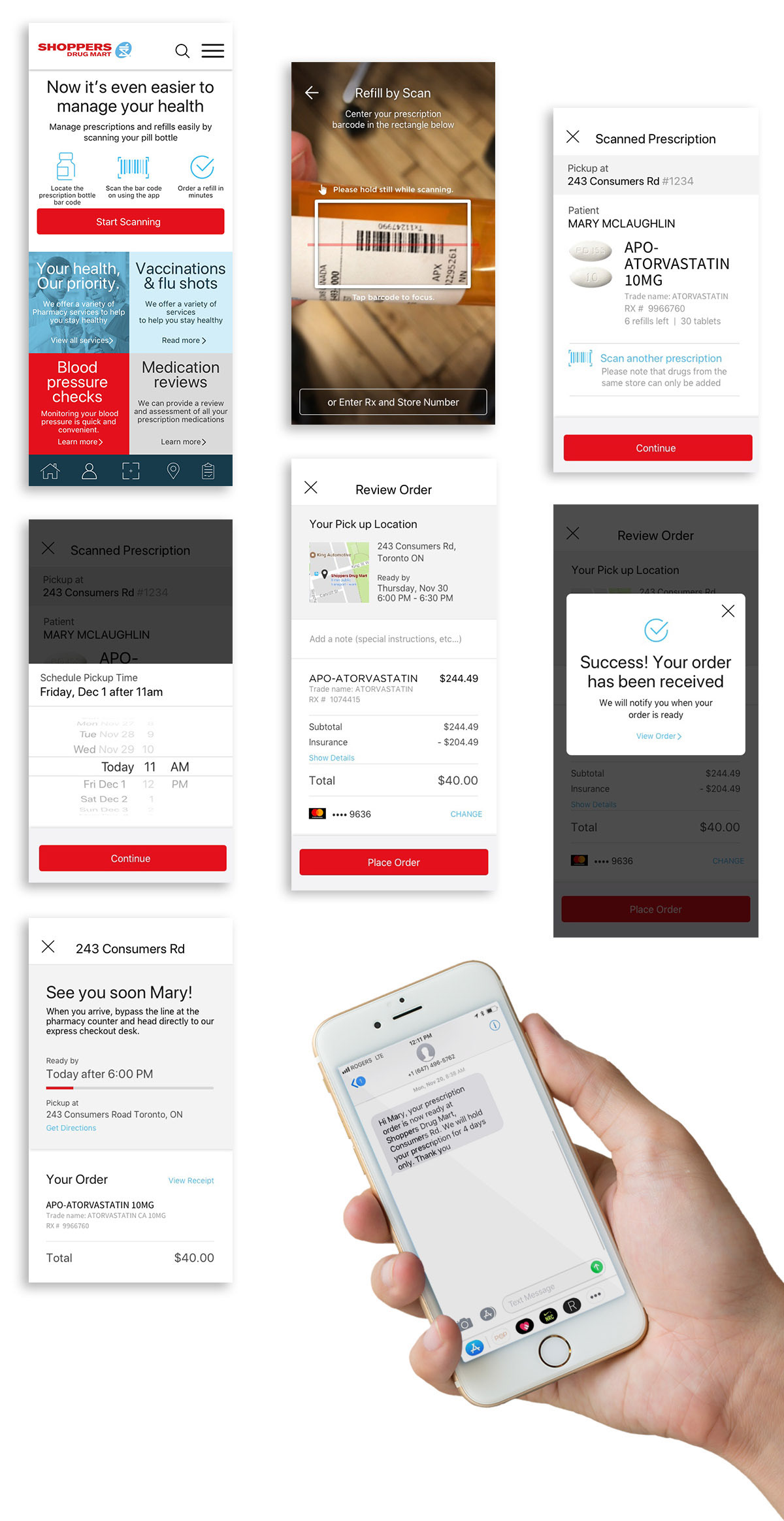 Within the final stages of Hackathon, display booths were set up in the common area to demonstrate Hack's. All employees were invited to vote on their favourite Hack. In the final round of judging we were chosen in to be in the top five, where we got the opportunity to present our hacks to the senior leadership team at Loblaws. We calculated the benefits that this could add to not only the user but the business also. This could bring in $85M in incremental revenue. As we consider adding functionality to this feature (caregiver, easy transfers, physician renewals) or integrating into our verified digital pharmacy experience, the upside will only grow.